Caroline Chiu: Polaroids as Chinese Ink Painting
An installation from A Chinese Wunderkammer
Snite Museum of Art
Milly and Fritz Kaeser Mestrovic Studio Gallery
March 14 to April 25, 2010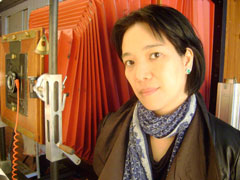 These photographs are taken from Hong Kong artist Caroline Chiu's larger series entitled Dreaming: A Chinese Wunderkammer. Wunderkammer were 17th- and 18th-century European "wonder rooms" or "cabinets of curiosity"––some of the earliest known "museums"––which contained specimens reflecting the natural world, anthropology, archaeology, relics, and art. The late Qing emperor Qianlong, known for his passion for the arts, also pursued this type of collecting.
In Chiu's case, she collects, by photography, objects representing the material culture of traditional China: bonsai, scholar's rocks, flowers, artworks depicting the animal zodiac, and, here, goldfish. Her choice of subjects makes reference to historical Chinese culture; her graphic photographic images of goldfish suggest the brushstrokes of traditional Chinese ink painting and the sweeping abstract shapes of Chinese writing.
Because the images were taken with a rare 20 x 24 inch Polaroid camera—for which film is no longer manufactured––the exhibition is also an elegy to the era of Polaroid cameras and film. See the review in the
South Bend Tribune
.