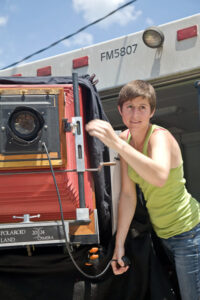 Here are some of Jennifer Trausch's personal recollections from her days on location in the South:
"It was the hottest day of our trip and we were quite run down having driven some three thousand miles in the last couple weeks. The night before my assistant, Kim, and I had worked at a Zydeco dance hall outside of Opelousas, Louisiana. We had shot late into the night until the dancers had worn themselves out. We were covered in bug bites from loading the equipment into the truck in the pitch black near railroad tracks we had only heard signs of. The day before the truck had broken down for the second time. It is hard enough to haul around a 235 pound camera, but having to move it in and out of a broken truck was yet another test of our determination. We had to get back to New York soon, and were driving northbound in Mississippi when we saw a handwritten sign for a fair and followed it, intrigued. The fairground was so small that you could walk through it in a couple of minutes. It was the middle of the afternoon and the air was heavy and the old rides were still. The location was perfect for our way of shooting; It was small enough that we could negotiate our way around with the camera but big enough that we would have a good selection of subjects to work with. I immediately gravitated toward the dunking booth; It was a simple box of water with a splintered board to sit on. Life preservers were hanging on a fence nearby just in case. I used my digital camera to make notes, circling the booth to find the best vantage point. One could only imagine who would be sitting up there later.

Read the whole story and view location photos by Kimberlee Venable
.