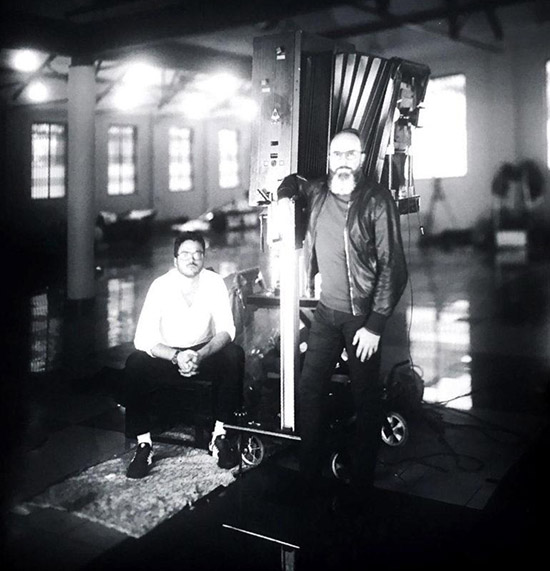 We are very excited to announce that a new 20×24 Studio has opened in Berlin, Germany.  It is run by Markus Mahla and Oliver Blohm.  Here is an excerpt from an interview with Mahla in The Phoblographer.
Markus Mahla: 20×24 Studio Berlin is a one-of-a-kind place that brings one of the most unique cameras of the last century back to life: the 20×24 Polaroid Land Camera. Polaroid built only five of these cameras in the 1970s. At our new location in the heart of Berlin, we present the beautiful number 5. It is the only operating 20×24 Land Camera outside the US. Number 2 is with John Reuter in NYC, and Number 3 is with Elsa Dorfman in Boston Area. What we do is pretty special: we produce mega format instant photography.
"I observed over the past years (and I was part of digital transitions in several companies with large and strong brands) that the more 'digital' young folks get or are, the more they are also very much interested in analogue experiences, such as taking a Polaroid picture. A process that you can touch, feel, smell, see, hear."
What all groups, clients and partners have in common is that they adore what we do. The 20×24 inch size is simply overwhelming; it gives you goosebumps and makes you overjoyed. I have never seen anybody who was not blissfully happy about his image and people who watch and follow the photography process are enthusiastic. This process was and is magic and attracts everyone in its spell. Taking a single photograph is an event in itself but, peeling this huge image apart in front of an audience, literally a minute after pulling it out of the huge camera, is a ball. People are moaning, applauding, screaming, they get goosebumps – we had folks who were in tears when their portrait was peeled off. It's always a very special moment. Even me being around this wonderful peace of art for quite a while, I'm getting excited while I tell all this to you.
Wherever we go, the 20×24 Land Camera is an eye-catcher. People are super excited – it feels to me that they are even more excited compared to the past since this is such an unexpected surprise. The wooden camera and the way we operate looks like were from a Jules Verne novel. Hardly anybody can actually believe that something like this really exists in our digital world. It is spectacular.