THE MYTHICAL BEAST MAKES AN APPEARANCE AT CLICK!
Click! is proud to offer the very rare opportunity to use the Giant Polaroid Camera in its last year of operation. The 20″ x 24″ camera will be in residence at Anchorlight in Raleigh from Oct. 27-29th. The 20×24 history runs deep with artists such as Chuck Close, Mary Ellen Mark, William Wegman, David Levinthal, Andy Warhol, Julien Schnabel, Joyce Tennyson, Robert Rauschenberg, Timothy Greenfield-Sanders and many more and now you too can use the mythical beast.  http://www.clicktrianglephoto.org/big-polaroid-camera/
THE 20X24 CAMERA
This is an absolutely once in a lifetime opportunity! Something you'll be telling your grandchildren and great grandchildren about. You'll be the envy of all your friends and neighbors. To travel to one of the 3 remaining cities to use the camera or be photographed by the camera, would take days and cost thousands. And that's assuming there would be time and materials remaining.
For two days during the Click! Festival, the camera is coming to Raleigh and you can work with it for a fraction of the cost to travel and use it. The clock on the opportunity to live the 20×24 experience is literally ticking away…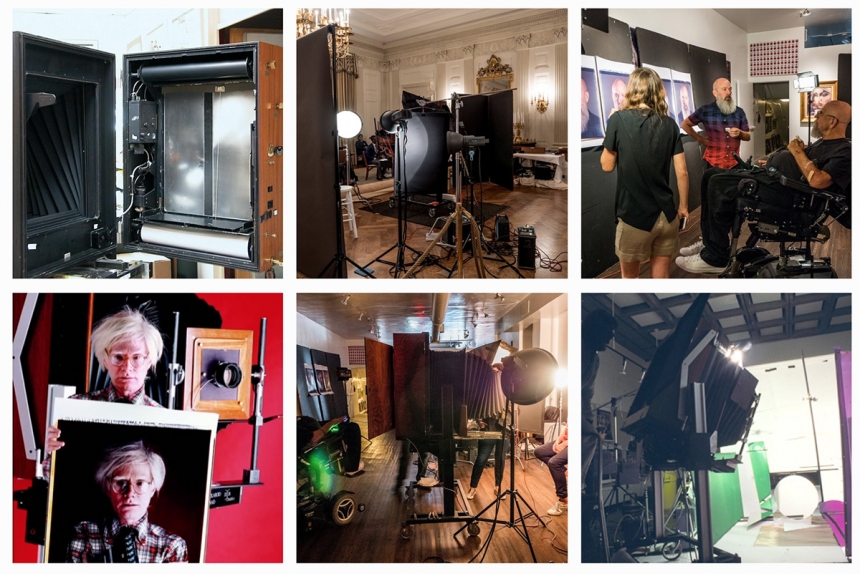 HOW THIS WORKS:
Reserving your camera time: Camera slots are available in two-hour increments. You may purchase as much time as you feel you can use, but please don't be greedy. We'd like as many people as possible to have the 20×24 experience.
Payment: A down payment equal to one-half (1/2) of the total amount for the time reserved is due when your time slot is booked. The remaining balance is due by the date of your shoot. Payment for your exposed film is due at the end of your session. Pricing is listed on the reservation page here: (Link). On the day of your session, we are only able to accept: cash, Visa, or Master Card. Please, no checks unless prior arrangements have been made. Payments may be made here.
Because of the unique nature of the 20×24 experience, we are unable to refund down-payments for balances not paid by October 1st. However, unlike airlines that are inflexible and unyielding, with Click! your reservation is transferable. If you have a friend or colleague that would like to take your spot they may do so. Please notify us by email prior to October 1st. Balances due must still be paid by October 1st.
Reservations may be changed on a space available basis. Please email us for availability. If you are unable to attend your session, your reservation is transferrable. Just notify us by email prior to your scheduled session time.
Failure to adhere to any of the guidelines as stated above, will result in the forfeiture of any monies paid, and your reservation will be cancelled.
Cancellation: While every effort will be made to honor all reservations, should the camera, for any reason, not be available for the times reserved, the Click! Festivals entire liability to any patron for any breech of this agreement, claim, loss, or injury arising from the performance of machine or materials shall be limited to a refund of monies paid. Believe us, if something goes wrong, we'll be even more disappointed than you will.
We can't stress it enough. Once the camera leaves, it will never return. This is an opportunity you just can't pass up. So don't! Use the link below to reserve your spot now, before it's too late. We know you'll thank us later.
The 20×24 Studio announced in June of 2016 that it will be ending production operations near the end of 2017. The company has been operating with film stock purchased in 2009 from Polaroid Corporation as it exited the film business. Executive Director John Reuter, who began working for Polaroid in 1978 stated that "our original business plan was for five years with the inventory purchased and for a variety of reasons we have not worked through the material. Instant film will not last forever and despite storing the film stock in cold storage and mixing the chemical reagent only as needed the studio projects that they can maintain the quality for two more years." "Our hope now is that we can work on some great projects with many of our legacy clients as well as new artists who have yet to experience the ultimate in instant analog image making," says Reuter. The Polaroid 20×24 camera stands apart from all other large format experiences because it delivers an instant finished photograph. The artist is able to react to the subject matter in a manner unlike any other photographic experience. Digital technology may rival it in resolution and instant playback but it cannot match the experience of having the final complete artwork on the wall in ninety seconds for all to see. The team of John Reuter, Nafis Azad and Ted McLelland has worked together for nearly ten years to provide access to this venerable technology. Together the three of them are working to produce the finished product that over a dozen people once accomplished at Polaroid.